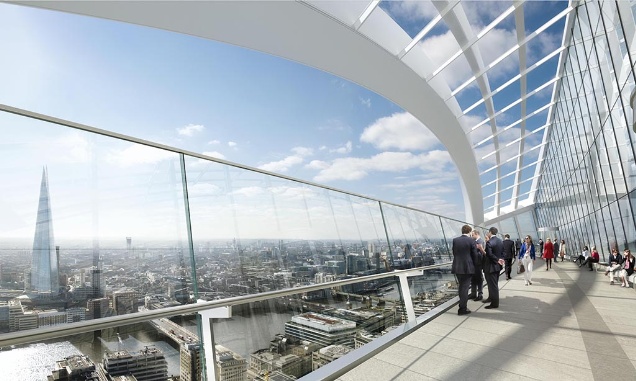 The Walkie Talkie skyscraper has been a dominant feature on the London skyline over the last few years. Whether you love it or loath it, now is your chance to take a look at the inside, well, only the top floor.
At 160m high it is only just over half the height of The Shard and the views aren't as spectacular, never the less it's still worth taking the trip just to see what they have done with the place. The very top of the building boasts a huge atrium and garden, featuring hundreds of species of plants and flowers. This garden is now open to the public, along with the restaurant, bar and cafe.
The gardens have been landscaped by the designers of the Olympic Park and  feature over 2000 types of plants, trees, flowers and shrubs. The developers of the building have named the terrace 'hanging gardens of modern Babylon' and hope to create the sense of a 'floating garden'.
The garden is housed under a glass roof creating a greenhouse effect, however the internal climate is kept at a comfortable level. Huge windows provide an excellent view of the south side of the city, the view will face directly at the Shard with Tower Bridge also being visible. Visitors who want a clearer view can also exit the gardens onto an external terrace.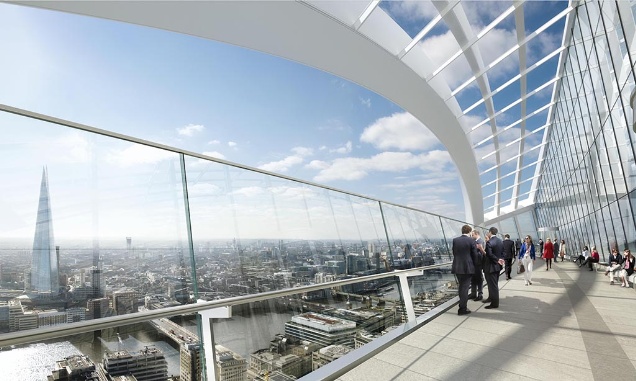 You can book your free slot at the sky-garden on this webpage. lease note that demand is very high and you will likely need to book months in advance.