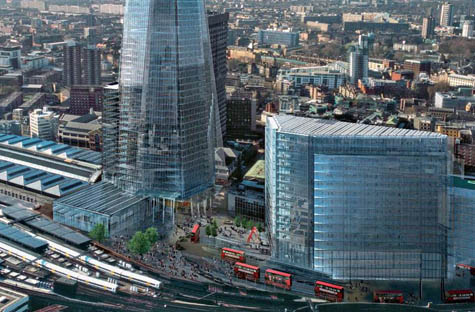 The Shard is London's tallest building and it's visible from pretty much anywhere. Never the less, for anyone who is not familiar with London you may worry that you won't be able to find the Shard, or that you'll get lost and miss your pre-booked ticket times.
This page will show you exactly how to get to The Shard from popular central London locations and show you exactly where it is.
Where is The Shard
The Shard's full address is 32 London Bridge St, London SE1 9SG. It's located in the London Borough of Southwark close to London Bridge Station. It is just over 2 miles from Charing Cross Station, 1 mile from Waterloo Station and 4 miles from Kings Cross St Pancras.
Here is a map showing the exact location of The Shard:

How to get to The Shard by Tube
The easiest way to get to The Shard is by tube. The building is located almost on top of London Bridge Station and the entrance to The View from The Shard is very near the tube exit.
London bridge Station is connected to two tube lines, the Northern Line or the Jubilee Line. Here is London Brige on the tube map:
Journey times will vary depending on tube closures and time f day, however the following journey times can be used as an accurate assumption:
Waterloo – London Bridge: 10 Minutes
Victoria – London Bridge: 20 Minutes
King Cross – London Bridge: 30 Minutes
Charing Cross – London Bridge – 20 Minutes
London Bridge to The Shard
Getting from London Bridge to The Shard is extremely easy. Just follow the exit signs and when you exit the barriers follow the signs that direct you towards the The Shard, they all over the station. It takes approximately 2 minutes to get from the Tube Station to The entrance of the Shard.
This is the entrance to The Shard viewing gallery, so you should be bale to spot it easily. The entrance to restaurants and hotels is just behind where this photo was taken.
Walking to The Shard
If you find yourself near London Bridge then its more than feasible to walk to The Shard and you will enjoy spectacular views of the Thames and Tower Bridge. Walking from Bank station may take up to half an hour, so be sure to plan enough time. I would not recommend walking from other central London locations such as Oxford Street or the West End as this would take over an hour.