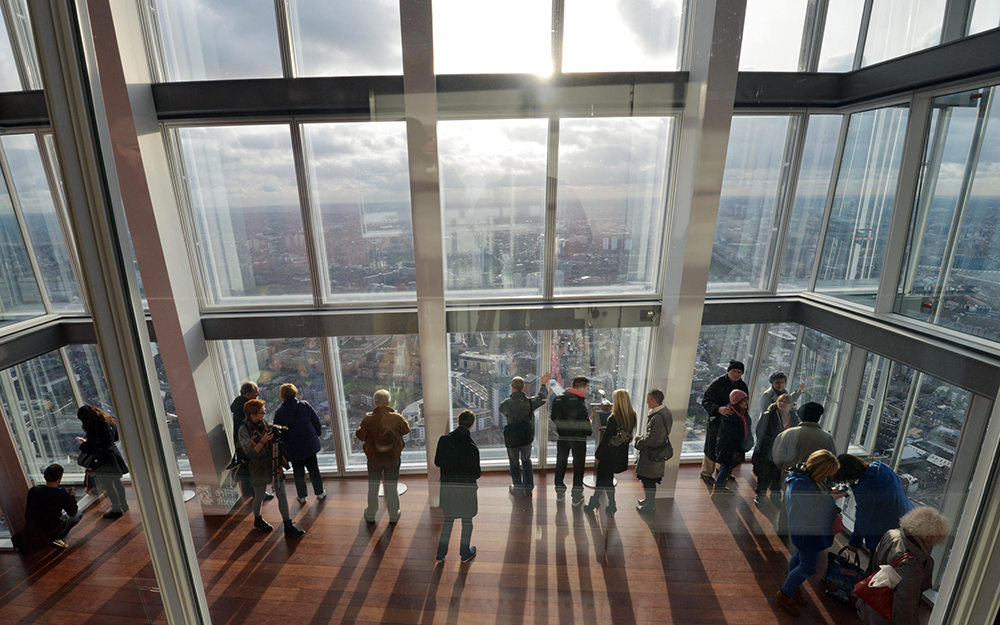 After dozens of trips to the top of the UK's tallest building, I finally review The View from The Shard.
That's right, I have visited the Shard's viewing platform dozens of times, in fact I used to work in the building. I have experienced the attraction in every condition possible; bad and good weather, busy and quite, night and day. I therefore have a unique perspective to write this review from.
This isn't a review of a singe trip to The View from The Shard, but a review over many months of visiting the attraction and experiencing both its strengths and weaknesses. I should point out that I no longer work in the Shard and have no affiliation towards them,  this review is written by me and me alone and it solely my opinion based on my experiences of the attraction.
Right, now let's have a quick summary of what The View from The Shard is: The View from The Shard is the viewing gallery located on the floors 68 – 72 of the Shard, this makes it the highest viewing platform in the London, the UK and Western Europe. The highest point of the viewing platform in located 240m above ground and on a clear day, visitors can see up to 40 miles away in every direction. For more information on the technical specifications of The View from the Shard, please visit the dedicated page.
I'm going to take you through the whole experience from start to finish and use my months of visiting the attraction to summarise how good or bad I found it to be, so let's get started.
1. Buying tickets
Buying tickets to the attraction is fairly easy. You can either purchase tickets at the Shard or online. Obviously it is far more convenient to do so online and when doing so you will be emailed your tickets which you need to print off and take with you, these will then be scanned when you enter the building.
You can book up to 3 months in advance and buy up to 8 tickets at a time. I would recommend purchasing your tickets from the Get Your Guide website, as they have consistently the cheapest tickets available and are a large and reliable company.
2. Finding it
The entrance to the viewing gallery on the ground floor of the Shard isn't in the best position. Unlike the entrance to the hotel and restaurants, which are both located in the grand front entrance to the building on St Thomas Street, the entrance to The View from The Shard is tucked away on Joiner street, which is a sort of alley way going through London Bridge Station.
Even though there are several signs in the area announcing the entrance, you could easily walk past it if you weren't paying attention. My advice would be to arrive via London bridge station underground and follow the signs to 'The Shard' and keep an eye out for the large screens on either side of the entrance.
If you get lost then London Bridge station staff will most likely be able to guide you. I'm sure the location of the entrance was a result of engineering necessities and not the choice of the viewing gallery owners, but they could help customers by including detailed directions on their tickets.
3. Queuing
When you do eventually find the entrance, you will be greeted by a flight of stairs leading to revolving doors (there is also a lift for disabled access, see this page for more info on disabled accessibility). There is a large screen with some interesting graphics depicting the history of London Bridge which is worth a look (it's the only history lesson you will be getting and it isn't very long). Depending on the time and day you may find that there is no queue, or that there is a massive one (leading all the way back down the stairs and outside again).
The ticket suggests that you have fast track access but this is actually dependant on if the attraction has reached full capacity. Your tickets state that you have a 30 minute window in which to enter the Shard, however you have no time limit to spend inside the building. The owners expect each person to spend around an hour inside the attraction before exiting of their own accord, however on busy days more people may choose to spend longer at the top of the building, leading to an over capacity and therefore queues.
Queues are also caused by people arriving before their time slot. If your ticket states your entry time slot is 13:00 – 13:30, do not arrive at 12:45 as you will need to queue until 13:00. This may seem like an overcomplicated way of running things, but it allows people to spend as much time enjoying the view as they like and is probably better than a free for all. My tip would be to come half way through your time slot and to try to book off-peak (weekdays or mornings).
5. Entrance and Security
Once you get through the revolving doors, you will find yourself in the main lobby of the attractions ground floor. The area is clean, new and modern, what you would expect from the Shard. You will be guided be a member of staff to the security area. They may also inform you to use the toilets available on the ground floor as you will not be able to use the toilets on the upper floors.
This is a bit of a let down that a brand new attraction cannot accommodate toilets on its upper floors, however the main issue is that if a staff member forgets to tell you and you get caught short on level 72, then you will have to come own to use the ground floor toilets and will not be allowed up again.
At the security check point you will need to pass through an airport like scanner and place your bags and coats in a try to be scanned. The security staff are friendly but to the point to ensure a smooth service. You will then notice some large green screens and professional looking camera's.
Once you and your group pass through security you will be ushered in front of the green screen for a quick photo. Your picture will then be super imposed on an image of the London skyline and you will have the option of purchasing when you return. I found this to be a bit forced, however the staff are friendly and you are under no obligation to buy anything.

6. Going up
You then make your way down toward the lift where a member of staff will ask you to wait. Once a lift arrive the staff member will usher you in. Each lift holds about 8 people, at full capacity this can feel fairly cramped but not claustrophobic. There will be a member of staff in the lift with you, they will introduce the attraction and give you some interesting facts such as how fast the lifts are going or how many panes of glass make up the exterior of the building.
Feel free to ask your lift guide anything you want (staff members are trained to know a lot of facts about the Shard and London in general) but you will only have about 30 seconds so make it quick. Staff members can sometimes seem ambivalent but most of the time they are friendly and welcoming.
At the end of your first lift journey you will find yourself on level 33 where you will need to transfer onto another lift. There will be staff members to guide you to the next lift where you can again ask any questions you feel like asking. When your next lift comes you will again have another 30 second journey with a staff member who will provide yet more interesting facts. I must say that the View from The Shard is very well manned and there is always someone available to guide or help you and the majority of the staff members are friendly and informative.
7. Level 69
Once you exist from your second lift journey you will find yourself on level 69. You won't be able to see the view just yet as the glass is opaque, at attempt to build the tension and to encourage you onto the main platform. Staff members will show you the stairs to the main viewing area. When you reach the main platform you will be taken aback by the view, it is truly spectacular. You can instantly spot the skyscrapers of The City of London, a slightly closer look and you will spot St. Paul's, then you look down and  Tower Bridge appears.
The owners of the viewing gallery claim to offer the best view in London and they weren't lying, I haven't experienced a better view in any other observation point in the world, let alone London. A minimalist style has been taken in the interior design of this level, simply wooden floors and massive windows. It feels very modern, very slick and there is plenty of space to walk around. Some may say that the excess space could be better used, but more on that in a bit.
You will be able to walk around the viewing platform and experience a 360 – degree view of London, while you do this you may notice some screens dotted around pointed out towards the landscape.  These are called 'tel:scopes' and are exactly what they sound like, telescopes, but with screens. These interesting devises will allow you to zoom in on a building and get a closer look and if you press a button on the side of the handle, a little box will pop up and give you some information on the landmark you are looking at.
There are about 200 buildings pre-loaded onto the tel:scopes and 8 of them available on the 69th floor, during busy periods you may need to wait a while to get your turn, but considering they are free to use this isn't much of an issue. Again, there are plenty of staff members here to answer your London related questions, probably more for the tourists though.
Level 72
Once you have circumnavigated level 69 a few times, you will probably be ready to ascend a few more floors to level 72. You can either take a few flights of stairs or use a lift. Once you reach level 72 you will notice one thing missing, a roof.
Level 72 is an open air platform and exposed to the elements, you can experience the 'sounds of London' from the highest point publicly accessible in the UK. Whilst this sounds quite exciting, level 72 doesn't really offer much more than the lower level. The view doesn't change significantly because you have only risen a few metres higher and there are no telescopes on this level either.
This is also the only area of the attraction where finding a member of staff may be difficult, my guess is that they don't fancy standing outside on a windy platform for hours at a time. That's not to say you shouldn't go up to level 72, it is certainly interesting to see the top of the building and if the weather is good you can enjoy the view and enjoy the sunshine, but it's one of those you do just so you can say you've done it.
A word on the weather
As you may be aware, the weather in London can be, um, unpredictable. Having booked your tickets months in advance you cannot know what the weather is going to do on the day you visit the Shard and how this will affect your view. I've been in the viewing gallery during most kinds of weather conditions and I can say that the weather certainly does effect the view. You should be most concerned if you visit the Shard on a foggy day or if there is low cloud.
If you cannot see the top of the Shard from the ground then you are unlikely to see anything from the top yourself. If this should happen on the day of your visit you have a few options, you can either received a ticket that grants you access later in the day (when hopefully the weather has cleared) or you can return another day within a 3 month period. This option is only available if less than 3 of the major landmarks are not visible.
Other, less extreme weather conditions don't pose much of an issue. Rain does reduce viability slightly, but not enough to render any buildings non visible. Check the weather forecast before you leave to see what you're in for.
Going down
You will most likely spend about 45 minutes at the top of The Shard before you feel you've seen everything you want to see. Whilst the tickets do state that you can send as much time as you like up their, it's only a matter of time before you tire of looking at the same cityscape, however beautiful.
Your journey back down will be the exactly opposite of your journey up. You return to the area where you existed the lift, before doing so passing through a small gift shop dubbed 'the highest shop in the UK', and await a lift to take you back to the ground.
When you return to the ground floor you walk through the main path which leads you to the gift shop and photo counter. This is where you can view the photo you posed for earlier and purchase any other souvenirs, A work of warning, the photo's are in my opinion extremely overpriced, at my last visit I noted that a single standard sized photo with small card frame was £15! And that's the cheapest option! I would advise taking a decent photo while you are at the top to save yourself some cash.
The items in the gift shop are relatively good compared to many others I've seen. There are plenty of Shard and London related products including books, clothes, t-shirts, toys and stationary. Be prepared to pay the gift shop premium price, alternatively many of the products are available online at a heavily discounted price (see the gift shop page).
Conclusion
All in all I have found The View from The Shard to be an overall enjoyable, if not expensive, experience. The staff are friendly, helpful and knowledgeable (something sorely missing from many other London attractions) and the layout is modern and clean. We must remember though, that for a family of 4 this could cost close to £100 for at maximum a 2 hour trip, is it really worth it?
I say yes, the view of London from 240m high is simply something that must be seen. The view is what people pay to see and a stunning view is what they get. Whether this is worth the ticket price is up to you but there is no better alternative in London available yet.
Could things be improved? Certainly, there could be a lot more information on the Shard and London in general, currently the amazing space is not used efficiently. 
Would I recommend it? Yes, this is a really fun one time treat and something you won't forget in a hurry. If you enjoyed the experience then a ticket could make for a really unique and interesting present for London fans.
The cheapest tickets to The View from The Shard can be purchased with the well-known experience providers Get Your Guide. The tickets cost £24.95 per adult and £18.95 per child, click here to purchase Shard tickets from Get Your Guide