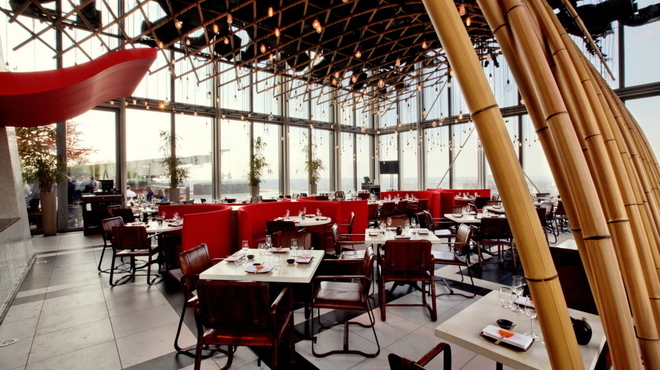 One of the top questions about The Shard is how to dress when you visit. There are many establishments located in The Shard and each one has a separate dress code policy. This page is a summary of every dress code policy in The Shard, so you can wear something appropriate when you visit.
The View from The Shard
Dress code policy: Casual or Smart/Casual
The viewing gallery at the top of The Shard doesn't have a strict dress code policy, however during the evening many people choose to smarten up and enjoy a champagne experience. Day time is more casual.
Gong Bar
Dress code policy: Smart/Casual. No sportswear, shorts or flip-flops
Gong Bar is located on level 52 of The Shard and is part of the 5 star Shangri La hotel. Anyone is welcome into the bar but you won't be allowed entry if you wear trainers, shorts, flip flops or other sportswear.
See Also: Afternoon Tea at The Shard's 5 Star Hotel
Ting
Dress code policy: Smart/Casual 
Ting is one of 4 restaurants in The Shard and is located on level 35 of the building. Ting operated a dress code policy of smart/casual. They do not stipulate any specific clothing not allowed however to be on the safe side I would avoid trainers or flip-flops.
Hutong Shard
Dress code policy: Smart casual (no sportswear, shorts or flip-flops).
Another Shard restaurant with spectacular views, Hutong may refuse entry to even booked guests if you are wearing any of the above items of clothing.
Oblix
Dress Code Policy: No trainers, shorts, sportsware
Oblix is strict when it comes to footware. Absolutely no trainers or sports shoes allowed. Otherwise the dress code is smart casual.
Aqua Shard
Dress code policy: No sports shoes, flip-flops or shorts
The final restaurant in our list is Aqua Shard, a highly rated restaurant serving American cuisine. Like all the other shard restaurants no sportswear or trainers allowed. Shorts and flip-flops are also banned, including during summer months.
Shard Dress Code Summary
If you are visiting one of the bars or restaurants in The Shard do not wear trainers, flip-flops, tracksuits, other sportswear or shorts. If you are visiting the top of the Shard then there is no dress code. Follow these rules and you should have no issues when visiting The Shard.