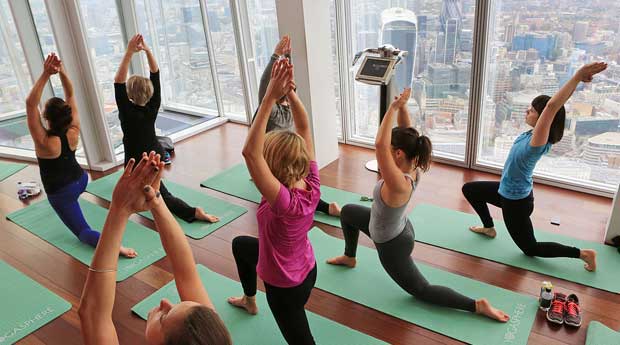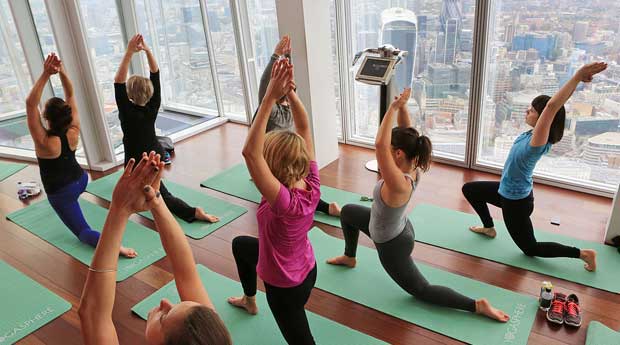 What better way to ascend to a higher plane than by ascending the UK's tallest building and enjoying a relaxing, invigorating yoga class with some of the country's top yoga instructors. In what must be the most unique yoga location in London, the viewing platform at the top of the Shard has been commandeered by Yogasphere who will be providing weekly classes surrounded by one of the most stunning views in the world.
Morning or evening yoga sessions.
You'll escape the stresses of the city by in more ways than one. The expert yoga instructors will take you to another world with their relaxing meditation techniques whilst you hover 800ft above the busy London metropolis. You'll have a panoramic view of the London skyline from the highest viewing point in the city and you'll be stunned by the number of world-famous landmarks visible in a single view, just remember to hold that cobra pose while you look out the double story windows.
Once your class is finished you'll have the opportunity to walk around the viewing platform and take in the view at your own leisure. You'll also be able to ascend another floor to level 72 which is an open air platform and officially the highest publicly accessible point in the country.
Classes are held mostly in the mornings however yogasphere are introducing evening classes in November, allowing you to de-stress after a hard days work and see the city sparkle in the night.
To get more information and to book a yoga session at the Shard, click the button below.
Book your Yoga Session at The Shard